Fed up with shaving every day?
Setsuko Beauty uses a High-Quality laser to give you the best results. We use the MOTUS AY, an Alexandrite and Nd:YAG laser that can be used on all skin types. Longer-term solutions are becoming more popular, so why not choose Setsuko Beauty Clinic for laser hair removal in Somerset?
What Is Laser Hair Removal?
Laser hair removal is a long-term hair reduction method using laser light. This laser light is absorbed by the pigment (melanin) in the hair, creating heat, which damages hair follicles in such a way as to inhibit regrowth. Hair removal lasers have been clinically proven. See the NHS article.
Benefits of Laser Hair Removal
1. Boost Confidence
Getting rid of unwanted hair can be a life-changing experience for many people.
2. Reduce Ingrown Hair
Ingrown hair can be painful and unattractive. It also increases the risks of infection. Laser treatment can help to reduce ingrowing hair.
3. Save Time
Treatments can save your valuable time instead of repeating short-term solutions.
4. Smoother Skin
Achieve smoother skin all year round.
5. Save Money
People spend a small fortune on razors, shaving cream, waxing and other hair removal accessories over the years. The cost of laser hair removal is often less.
6. Environmentally Friendly
Every year, 2 billion razors are thrown away, but a significant amount is not in landfills, and 32% of plastic products end up in the ocean. Laser Hair Removal will significantly reduce the negative impact on our planet.
Book your virtual consultation today
Interested in Hair Laser Removal on the Face or Hollywood Laser Hair Removal?
Introducing the LYNTON LASERS MOTUS AY
Our MOTUS AY Laser is the world's first FDA-approved True Alexandrite and Nd:YAG laser with "Moveo Technology". This can make your treatment virtually Pain-Free. This cutting-edge device is fast, safe, and highly effective on ALL skin colours. The Motus AY is used by top aesthetic clinics & Lynton Lasers is an NHS supplier. In addition, we also use a CRYO Cooling machine which helps to soothe and cool down your skin before, during and after treatment.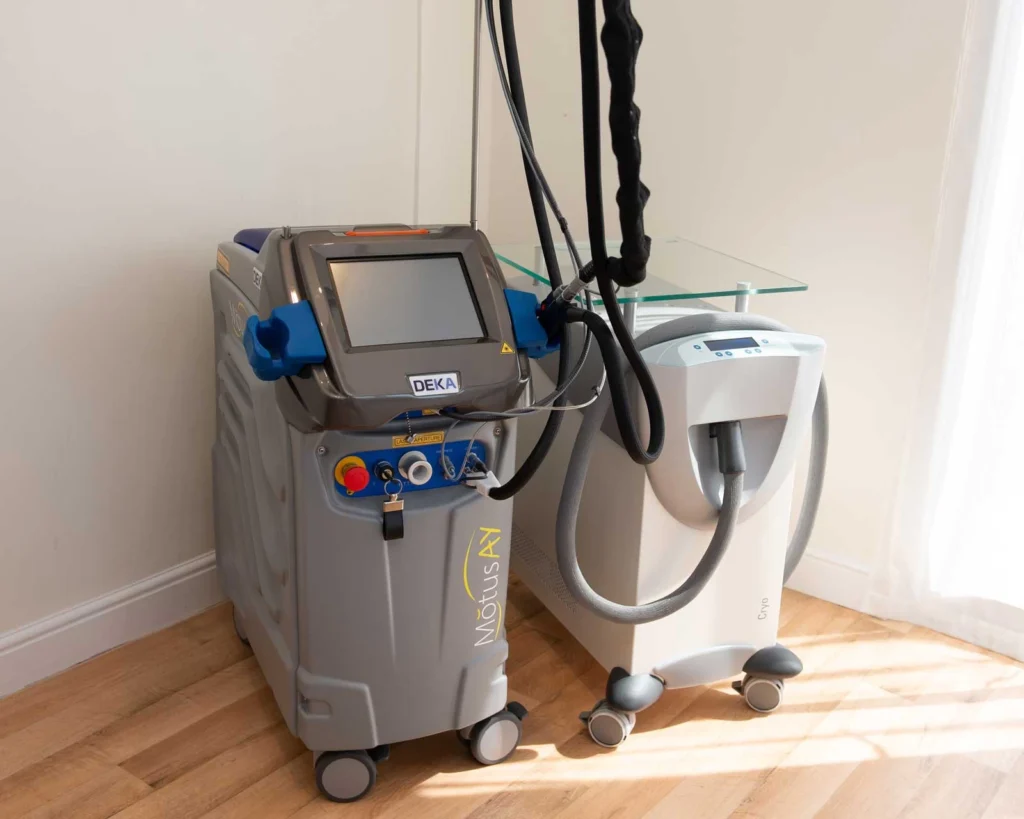 Types of Hair Removal Laser
Several types of laser can be used for hair removal. Every kind of Laser creates light at a specific wavelength:
The Alexandrite laser has a shorter wavelength compared to other hair removal lasers and has the best melanin energy absorption. As the skin can also absorb this energy, it is usually best used on people with lighter skin tones. With new MOVEO technology, it can now also be used on darker skin.
The Nd:YAG laser has a longer wavelength that is less easily absorbed by the skin, making the YAG laser safe and best for people with darker skin tones.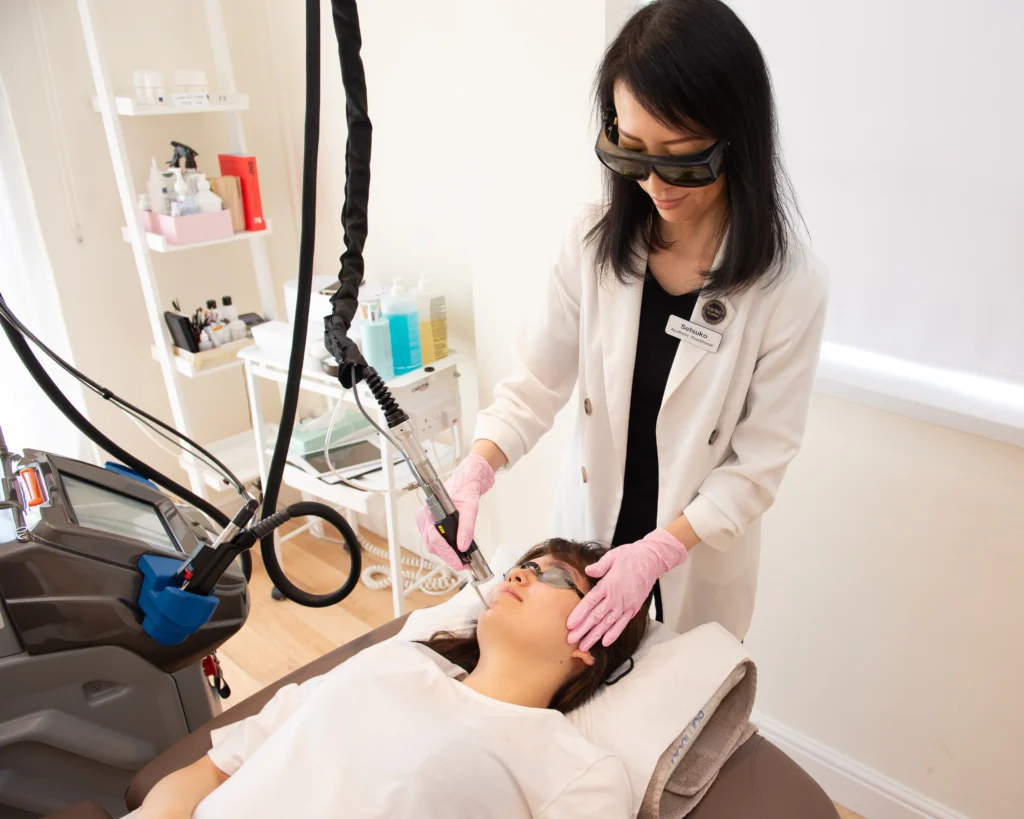 Subscribe to our YouTube Channel
LASER or IPL HAIR REMOVAL?
IPL and Laser are not the same. Laser machines are more targeted and more powerful than IPL. Both technologies emit light which is absorbed by the pigment (melanin) in the hair. The light energy is converted to heat, which damages the hair follicles that produce hair. This damage inhibits or delays future hair growth.
What is IPL?
IPL stands for Intense Pulsed Light; it uses a broadband pulsed light source; "imagine a powerful camera flash". The light produced by IPL is over a range of wavelengths, so the energy is not transmitted to hairs as efficiently as laser light.
What is LASER?
Lasers produce light at a specific frequency. Several types of laser are used for hair removal; Alexandrite, Nd:YAG, Diode and Ruby. Some wavelengths are absorbed more efficiently by your hair and skin than others. So using the correct laser for your hair and skin colour will give safe and better results.
Nearly 100% of laser light is one pure colour.
Light is emitted as a relatively narrow beam in a specific direction, making the light very powerful.
The light is totally reinforcing and in phase in space and time.
The light has many different colours and only a certain percentage of those colours are effective in the treatment of hair removal.
Light is emitted in many directions away from the source.
Many different wavelengths are generated and therefore some scatter in the skin.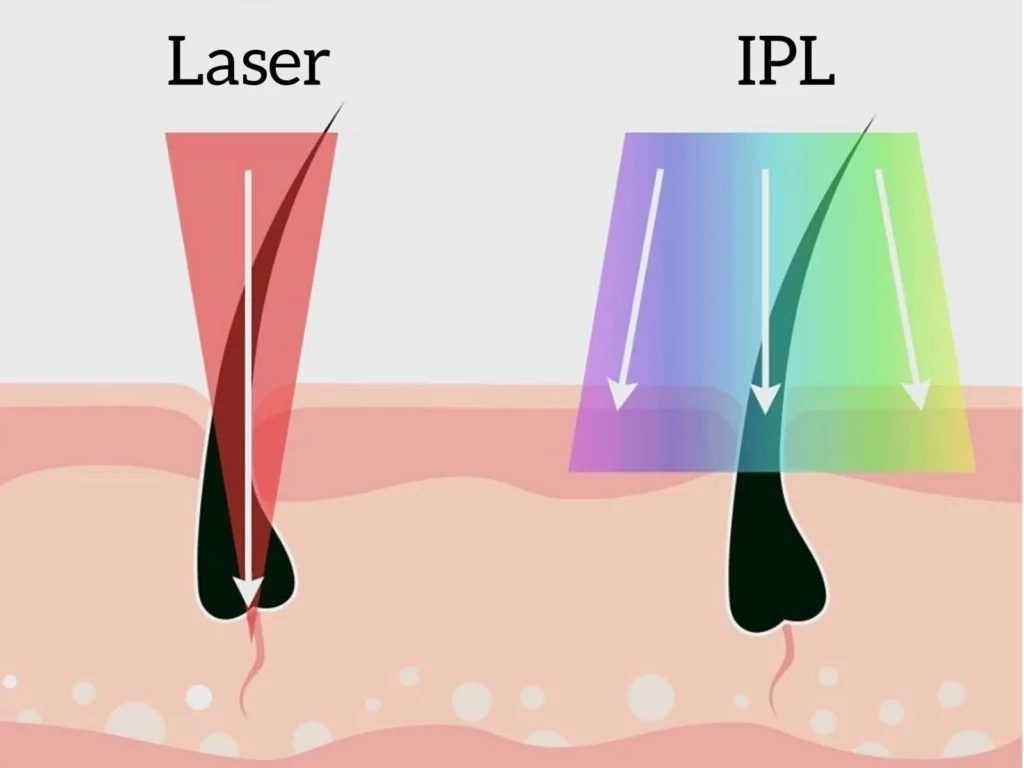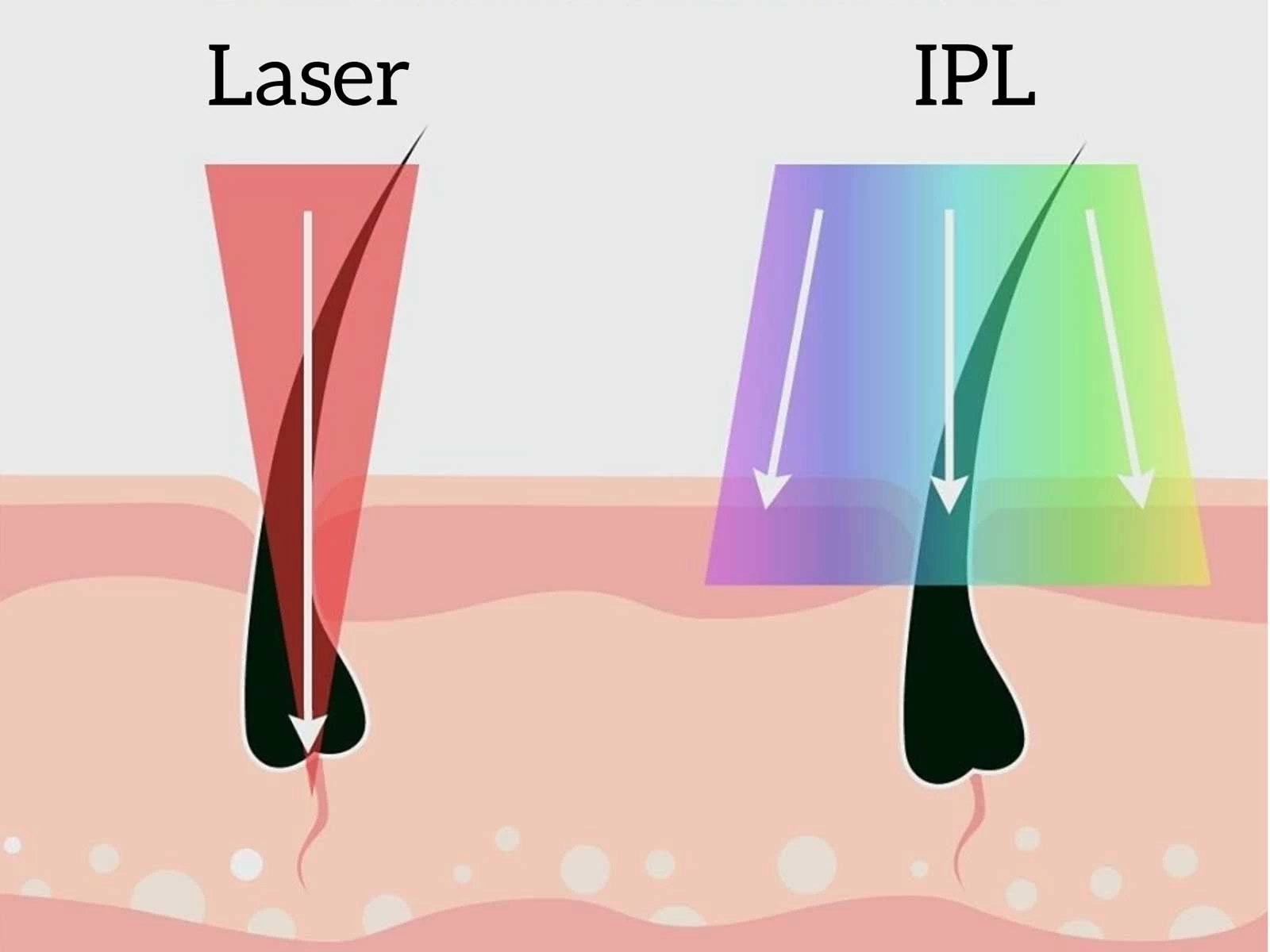 Which is Better, IPL or Laser?
The honest answer is, "It depends." The quality of the machine, the training of the practitioner and the maintenance of the equipment can have a massive impact on the effect of treatment. As a laser is a more targeted machine than IPL, using the correct laser will give better results than IPL in general. Please see further details on our FAQ page.
Setsuko Beauty offers Laser treatments in Taunton, Bridgwater, Weston-Super-Mare, Burnham-on-Sea, Yeovil, Minehead, Chard and Somerset areas.